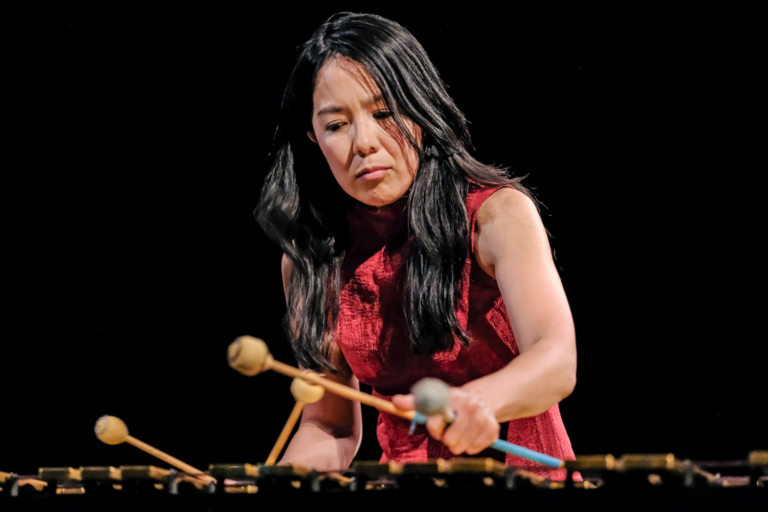 Taiko Saito is one of the most versatile marimba and vibraphone players in Germany. She enchants her audience with her unique style of playing and her special sound aesthetics. She received several awards in jazz as well as in classical music. 
She toured worldwide and released albums as (co-)leader of KOKO with Niko Meinhold (p), Futari with Satoko Fujii (p), Berlin Mallet Group with David Friedman, Julius Heise, Raphael Meinhart, and Hauke Renken, Trio SAN with Satoko Fujii and Yuko Oshima (dr), and kokotob with Niko Meinhold and reed player Tobias Schirmer (bcl). 
Born in Sapporo/Japan and has lived in Berlin since 1998. She studied with marimba virtuoso Keiko Abe and studied classical marimba and percussion at the Toho School of Music. In 1997 she began to improvise and to write music, and moved to Berlin, where she studied vibraphone and composition with David Friedman at the Universität der Künste Berlin.
She worked with Keiko Abe, Sofia Gubaidulina, Mary Halverson, David Friedman, Satoko Fujii, Herbert Fritsch, Kazuhisa Uchihashi, Takehito Koganezawa, Silke Eberhard, Achim Kaufmann, Heinrich Köbberling u.a.
She performed at events such as the Reykjavik Jazz Festival (Iceland), Tong-Yeong Music Festival (South-Korea), Zeltsman Marimba Festival (USA), Silk Road Festival (Azerbaijan), Cairo Jazz Festival (Egypt), Jazz Meile (Germany), Jazz & City Festival(Austria), Moers Festival, Jazzfest Berlin, Jazzfest Bonn, Colombia and Japan. 
As a soloist, she has appeared with the Sapporo Symphony Orchestra and with Orchestra d´Auvergne in France, and presented concerts and given masterclasses at the Universidad Javeriana de Bogotá (Colombia), International Mycka Marimba Academy (Poland), Zeltsmann Marimba Academy (USA), Rotterdams Conservatorium (Netherlands), Toho School of Music, Shobi School of Music, Otani College of Art and at the Percussion Society Hokkaido (Japan). She was also a jury member of International Vibraphone Competition in France.
As a composer, she won the originality prize in the International Marimba Competition 2004 for "Landscape IV". In 2008 she wrote "Hide and Seek for 9 percussionists", commissioned by the percussion ensemble "coup de baguette".
She has also appeared on numerous recordings from classical, jazz, and improvised to hip-hop music, including an ECM recording with Trickster Orchestra, a world premiere recording of Sofia Gubaidulina's "So sei es" with Nurit Stark Ensemble on BIS records and a film of Hitomi Kamanaka's "Ashes to Honey" with Shing02 . 
She is a member of Trickster Orchestra, Andromeda Mega Express Orchestra, Silke Eberhards' Potsa Lotsa XL, Hannes Zerbe Jazz Orchestra.
Taiko Saito is a Korogi artist. She plays exclusively her 5,5 octave Korogi Marimba Perfection. 
Mike Mainieri | vibraphone player of Steps Ahead
Taiko´s performance, which embodied everything that moves me, especially on the vibraphone! Taiko not only displayed exceptional technique, but more importantly she projected her own voice on an instrument that dares one to uncover.
When Taiko came the first time on take a lesson with me, I felt that she had a natural musical talent, and that someday she would be a true musician. I am delighted about her unique music, which is full of her creativity.
George Harris | All About Jazz
… With just two percussive instruments, it is a minor miracle how these musicians keep the listener's interest. … It reminds us that if you want to get someone to listen, whisper.
Tobias Böcker | Jazz Zeitung, Germany
… a duo of two marked and outstanding personalities who in no phase need a noisy self-presentation but project but extend beyond themselves into an independent world of sound of their own.
Ray Comiskey | The Irish Times
In mood it's somewhat reminiscent of Corea/Burton's Crystal Silence, with the qualifications that that implies; delicate, often quite beautiful.